The Howboy Catts
FEATURED TRACKS
Now Is Our Time (feat. Megan Fre...
Chasin' Tail
Last Chance for Love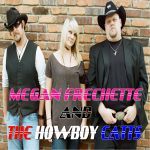 Artist Bio
The Mysterious yet Playful & Lovable Country Duo known as THE HOWBOY CATTS, featuring JAMES HENRY FRAME III (CAP'N LOVE) on Vocals, Guitar & Drums and WALTER (THE MUSIC CITY MADMAN) CHERRY on Vocals, Guitar, Bass, Banjo, & percussion are armed and ready 2 country. With the release of their first studio ep, STARTIN' FROM SCRATCH, a live album recorded at the World Famous Exit /In, in Nashville, both on the duet's own independent FYF Records label, touring in 2010 & 2011 around the mid south, a ...
Discography