Cut-Express
FEATURED TRACKS
The Nightfly (Midnight Drive)
Time-Up Make-It (feat. Smoke On ...
Chocolate-Box (Steam-Flow Mix)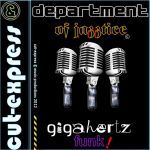 Artist Bio
Guitarist, Songwriter & Producer, Meric van Helsing founded CUT-EXPRESS in 2002. First productions in Electro, House & Trance show up with the Album: 2-B, released in 2004. But it was in 2010, when "Cut-Express © Music Productions" becomes recognized through the social-networks, with its polyvalent productions - recorded with different Band-Formations, such as: CUT-EXPRESS & EMERGENCY (Metal-Core), CUT-EXPRESS & CYBERNETIC-SOULS (Electro), and CUT-EXPRESS & DEPARTMENT OF JAZZTICE (Jazz-Funk ...