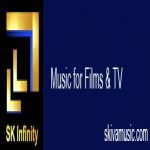 Artist Bio
SK Infinity World Media

At SK Infinity World Media, we are engaged in producing albums in the genres of New Age Music, Yoga Music and World Music. We also provide music an sound design for Films, TV and Internet media.

Our new age music has been ranked high in iTunes Top 100 New Age Music Charts in UK, Norway, Mexico, Sweden and other countries. Our music has been part of TV productions on STAR TV, Channel V, KMVT15 (California), and other TV Channels in Florida, ...