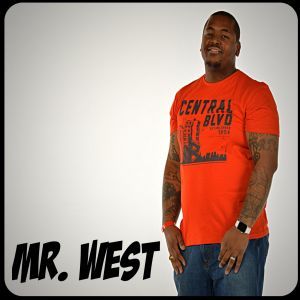 Artist Bio
The B. West Story

The story of B. West begins on September 18th 1987 when he was introduced to the world not knowing that he would one day be considered a one-man show. B. West born Robert July Wescott III grew up working in the family owned mortuary where he learned discipline and responsibility. Since the age of 12, West learned the importance of upholding his responsibilities, and started setting goals for himself. Around this time he began writing poetry, which then transfo ...
Upcoming Events
Sun, Dec 12, 2010 9:00 PM
Mill Creek Tavern
4200 CHESTER AVE (PHILA, PA)
LAST INDUSTRY RISERS SHOWCASE

Thu, Dec 09, 2010 10:00 PM
RAIN LOUNGE
120 CHESTNUT STREET
LARRY LARR/BATCAVE SHOWCASE

Sat, Jul 31, 2010 9:00 PM
MILL CREEK TAVERN
4200 CHESTER AVE (PHILA, PA)
DAISY DUKES VS TIGHTS ...EVENT.. COME OUT & PARTY WIT B. WEST, TRIZZY,.....

Sat, Jan 16, 2010 8:00 PM
TACONY BILLIARDS
6201 KEYSTONE
COME ROCK OUT WITH B. WEST, E.NESS (B

Fri, Dec 18, 2009 9:00 PM
THE PLAYERS CLUB
835 ALLEGHENY AVE (K&A)
LIVE PERFORMANCES BY: B. WEST, FAMOUS, TOPLESS POLE DANCERS & MORE !

Thu, Dec 17, 2009 8:00 PM
ALFIES
ROOSEVELT BLVD & WELSH ROAD
LIVE PERFORMANCES FROM B. WEST, JOEY JIHAD, DANNY DIMEZ, G DASH & MORE !!

Sat, Dec 12, 2009 8:00 PM
209 GALLERY
209 N. 3RD STREET PHILA PA
COME OUT & ENJOY PERFORMANCES FROM B WEST, TONE TRUMP & MORE !

Sat, Oct 24, 2009 8:00 PM
PHILLY WE BACK !!!
6201 KEYSTONE STREET
CRAZY SHOW PUTTING PHILLY BACK ON THE MAP @ TACONY BILLIARDS