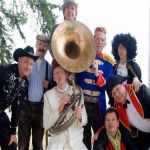 Artist Bio
8/9 piece comedy jazz band from Great Britain. All based around the Milton Keynes area.
Available for Comedy and Jazz Festivals, private parties and corporate events.
With numbers from - amongst others - the Bonzo Dog DooDah Band, The Temperance Seven, Tom Lehrer, Jake Thackrey, this band are one of the last true variety shows with audience participation and props galore and loved by all age groups.
They are extremely good value on and off stage with magic tricks galore incl ...
Discography

Upcoming Events
Thu, Oct 25, 2012 8:00 PM
Olney Centre
Olney
Private

Sun, Aug 26, 2012 4:30 PM
Private Garden
Olney
'We're In The Pink' - Cancer Charity fundraiser

Sat, Jun 02, 2012 3:00 PM
Willen Hospice
Willen, MK
Open Day

Sat, Apr 21, 2012 6:30 PM
Ravenstone
Bucks
Ravenstock - with Chocolate Badger

Sat, Mar 03, 2012 9:30 PM
Wolverton Centre
Wolverton MK
Millie's Fund Fundraiser

Sun, Dec 11, 2011 3:30 AM
Camp Hill
MK
Christmas Fare

Sat, Oct 29, 2011 7:00 PM
Lavendon Village Hall
Lavendon, Bucks
Private Event

Sat, Oct 15, 2011 7:00 PM
United Reform Church
Olney
Charity Event

Sat, Sep 10, 2011 4:00 PM
Private Garden
New Forest
Private Event

Sat, Jun 11, 2011 7:00 PM
Camp Hill
MK
House Band for Pantomime

Fri, Jun 10, 2011 7:00 PM
Camp Hill
MK
House Band for Pantomime

Sun, Jun 05, 2011 3:00 PM
Camp Hill
Milton Keynes
Open Day

Sat, Apr 16, 2011 8:00 PM
The White Hart
Sherrington
Birthday Party

Sun, Feb 13, 2011 8:00 PM
MK Theatre
MK
Beatles Night (Charity Event)

Sat, Jan 29, 2011 8:00 PM
Lavendon Village Hall
Lavendon, Bucks
WI Knees Up

Fri, Dec 10, 2010 10:00 PM
Private Garden
Northampton
Birthday Party

Thu, Nov 25, 2010 7:00 PM
Abbey Hill Gold Club
MK
Private Party

Sun, Sep 26, 2010 10:45 AM
Millbrook
Milton Keynes
Corporate Event

Sat, Sep 11, 2010 7:00 PM
Brayfield House
Bratfield, Beds
With Kenny Ball and his Jazzmen

Sun, Aug 08, 2010 5:00 PM
Rushden Band Stand
Rushden
Music Day

Sat, Jul 31, 2010 7:00 PM
Clifton Reynes
The Robin Hood
With Kenny Ball and his Jazzmen

Fri, Jul 23, 2010 3:00 PM
Milton Keynes
Milton Keynes
Corporate Event

Sat, Jul 17, 2010 8:00 PM
Northampton
Private Event
With Terry Lightfoot and his Jazzmen

Sat, Jul 10, 2010 4:00 PM
Newport Pagnell Carnival
Newport Pagnell
Carnival

Fri, Jun 11, 2010 7:00 PM
The Canon
Newport Pagnell
Knees Up

Sat, May 29, 2010 7:00 PM
Private Garden
Milton Keynes
Birthday Party

Sat, May 15, 2010 7:00 PM
The Hilton
MK
Rotary Club

Sat, May 01, 2010 3:00 PM
The White Hart
Sherrington
Beer Festival

Fri, Apr 30, 2010 7:00 PM
The Bell and Bear
Emberton
Knees Up

Sat, Mar 13, 2010 7:00 PM
Roade Club
Roade, Northants
Caravaners Dinner

Sat, Jan 30, 2010 7:00 PM
Willen Retirement Village
MK
Private Event

Sat, Jan 23, 2010 8:00 PM
Turvey
Turvey, Beds, UK
Variety Night

Sat, Sep 26, 2009 3:00 PM
Emmaus
Beds, UK
Afternoon Session

Sat, Sep 19, 2009 8:00 PM
Ravenstone
UK
Charity Event

Sun, Sep 13, 2009 4:00 PM
Emberton
Emberton, UK
Street Fair

Sat, Sep 12, 2009 3:00 PM
Chrysalis Theatre
Milton Keynes, England
Afternoon session

Sat, Sep 12, 2009 7:00 PM
The Robin Hood
Clifton Reynes
With Chas and Dave