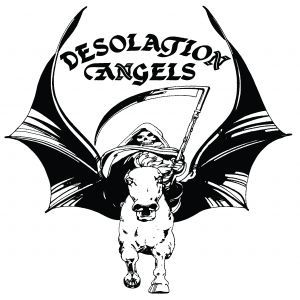 Artist Bio
Where it all started . . .

Desolation Angels was formed in early 1981 by childhood friends and twin guitarists Robin Brancher and Keith Sharp.
We recruited drummer John Graham from our previous band to pursue a heavier direction, soon to be joined by another old school friend Joe Larner on bass. An ad was placed in Melody Maker for a vocalist and the line-up was completed when Dave Wall auditioned. Being based in the East End of London, we set about writing, rehearsing and ...
Upcoming Events
Fri, Oct 24, 2014 12:00 PM
THE MALTA DOOM METAL FESTIVAL
Buskett Road, Buskett,Is-Siggi
Desolation Angels are in support of The Manilla Road

Sat, Aug 16, 2014 7:00 PM
THE CARLISLE
24 Pelham Crescent Hastings Ea
Established as a biker friendly pub in the sixties.

Thu, Jul 24, 2014 7:00 PM
Sonic Attack Rock Club
1 Malden Road Camden London NW
Heavy Rock Nite - Fiddlers Elbow - Camden - Sonic Attack Rock Club

Fri, Jul 11, 2014 11:00 AM
METAL MAGIC FESTIVAL
7000 Fredericia Denmark
3 Days of pure 'Headbanging' madness