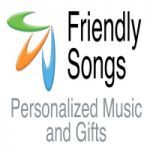 Artist Bio
Welcome to Personalized Music by Friendly Songs, a division of KMConsolidated, LLC!

Watching a child's delight in hearing their very own name sung on a personalized music CD is one of the greatest joys you'll ever experience. You might even find yourself dancing and singing to the songs also!

Learn more about Friendly Songs by going to our website link above. Or go to iTunes and do a search for "Personalized Kid Music" in the search bar. Then click on the artist ...