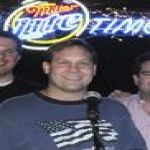 Artist Bio
Welcome to JDrocks.com, web site of JD Mauger- singer & songwriter for The Ricks and CranDaddy.

I'd like to propose a toast...
Here's to songs that inspire you to hit the beach,
kiss your girl,
pet your dog,
hug the ones you love,
crack open a cold beer & sing along...

Here's to Rock 'n' Roll & Country 'n' Blues...

And here's to you having a good time with The Ricks- JD Mauger, Rowland & Friends!
...
Discography

Upcoming Events
Sat, Jan 14, 2017 10:00 PM
???
Nashville
The Ricks wrap up the Nashville tour... don't miss it!

Fri, Jan 13, 2017 10:00 PM
???
Nashville
Get LUCKY on Friday the 13th... Catch The Ricks featuring JD & Rowland

Thu, Jan 12, 2017 1:00 AM
???
Nashville
The Ricks are Rockin' Nashville in 2017