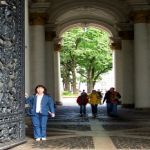 Artist Bio
Joanna's love of the piano began at the age of 4 years when she taught herself to play after listening to music on the radio.
She felt that the whole world was in the piano and within her grasp.
Through the ups and downs of life, the piano has always been a source of comfort and inspiration.
The music on these albums are her own arrangements of popular melodies. They were recorded spontaneously and from memory on a very old Broadwood Grand Piano.
The cover illu ...