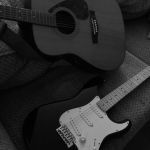 Artist Bio
Raised on AM/FM radio, influenced by Elvis Presley, The Beatles, R.E.M., The Eagles, Tom Petty, Garth Brooks, Brooks & Dunn and many more. I love and appreciate music from all genres.

I found my inspiration in my Son and I found my muse in my beautiful Wife. I am also blessed to have great friends who appreciate and participate in my musical journey, encouraging me along the way.

I hope you enjoy listening to my music!