Keith Mccoy / Astra ...
FEATURED TRACKS
Once Again Once Your Gone
Onlybody I Can Blame Is Me
This Old House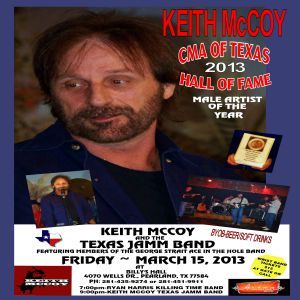 Artist Bio
Keith Mccoy was born in Pasadena Texas, and raised in Channelview, Texas. Keith starting performing in clubs when he was 16 years old, Keithís dad Herman Mccoy would take Keith out to the clubs and places their band was playing. Back at that time the lead singer in Keithís dadís band was Gene Watson. During the years Keith formed a band and has played and backed up many well known artist thru the years such as George Jones, Johnny Paycheck, Bobby Bare, Gene Watson, Eddie Raven, Vern Godsin , Ga ...
Upcoming Events
Sat, Nov 09, 2013 9:00 PM
Blue Collar Bar 832-991-0247
5626 Red Bluff Rd Pasadena Tx
Keith Mccoy & CEO Band

Sun, Oct 27, 2013 12:00 PM
Lonestar Club
2900 South Shaver Pasadena Tex
Keith Mccoy & CEO Band

Sat, Oct 12, 2013 9:00 PM
Blue Collar Bar 832-991-0247
5626 Red Bluff Rd Pasadena Tx
Keith Mccoy & CEO Band

Fri, Oct 04, 2013 9:00 PM
Shenanigans 409-945-9611
820 34th Street N. Texas City
Keith Mccoy & CEO Band

Thu, Oct 03, 2013 8:00 PM
Isle Of Capri Casino La.
100 Westlake Lake Charles La
Keith Mccoy & CEO Band

Sat, Sep 21, 2013 9:00 PM
Bob and Jeans
4700 FM 1942 Rd Crosby Texas 7
Keith Mccoy & CEO Band

Sat, Sep 14, 2013 9:00 PM
Blue Collar Bar 832-991-0247
5626 Red Bluff Rd Pasadena Tx
Keith Mccoy & CEO Band

Fri, Sep 13, 2013 8:00 PM
Moose Lodge 281-487-2070
3919 Pansy St Pasadena Texas
Keith Mccoy & CEO Band

Fri, Aug 23, 2013 8:00 PM
Moose Lodge 281-487-2070
3919 Pansy St Pasadena Texas
Keith Mccoy & CEO Band

Sat, Aug 17, 2013 9:00 PM
Blue Collar Bar 832-991-0247
5626 Red Bluff Rd Pasadena Tx
Keith Mccoy & CEO Band

Thu, Aug 08, 2013 8:00 PM
Isle Of Capri Casino La.
100 Westlake Lake Charles La
Keith Mccoy & CEO Band

Fri, Jul 12, 2013 8:00 PM
Moose Lodge 281-487-2070
3919 Pansy St Pasadena Texas
Keith Mccoy & CEO Band

Fri, Jul 05, 2013 9:30 PM
Shenanigans 409-945-9611
820 34th Street N. Texas City
Keith Mccoy & CEO Band

Thu, Jun 20, 2013 8:00 PM
Isle Of Capri Casino La.
100 Westlake Lake Charles La
Keith Mccoy & CEO Band

Sat, Jun 08, 2013 9:00 PM
Blue Collar Bar 832-991-0247
5626 Red Bluff Rd Pasadena Tx
Keith Mccoy & CEO Band