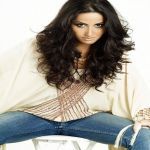 Artist Bio
Welcome To Mashael page , the artist Mashael of the latest artists Gulf ... Which excelled in singing all the dialects of Egyptian, Lebanese, and Aden and the UAE and Saudi Arabia before this of all kinds and for permanent residence in the Kingdom of Saudi Arabia .
The artist recently have attention of many flares of poets and critics in The artistic side ... As well as the award for best singer Gulf dialect.
Collaborated artist Mashael in her first album
( Kid El Nesaa ) ...
Upcoming Events
Fri, Feb 04, 2011 1:00 AM
Four Seison
Saudia
Live

Sun, Jan 30, 2011 1:00 AM
Merdian
Egypt
Live

Fri, Jan 21, 2011 11:00 PM
Club
Tunis
Live

Thu, Jan 13, 2011 10:00 PM
Vensia Hotel
Birute - Lebanon
Live

Fri, Dec 31, 2010 12:00 PM
Live
U.A.E
Dubai Vist.