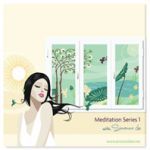 Artist Bio
Simonne C Lee is a Reiki Master and holds regular meditation circles of all sizes. Her soothing style and agile approach allows her to integrate other modalities such as Energy Healing, Chakra Balancing and Shamanic work to deliver a unique and powerful healing experience.

This series is intended for busy people, a step by step guided meditation - all you have to do is press play, listen and allow yourself to be taken on a journey.

There are 2 meditations on this C ...