Onebody Enterprise L...
FEATURED TRACKS
Buck Shotz
Thx God (feat. Menace O.B.E.Z)
Dirty Bitch (feat. Menace O.B.E.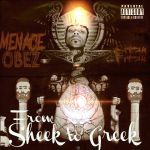 Artist Bio
Menace OBEZ (pronounced O B E Z not OBEZ) has been down with Ol' Dirty Bastard from the start, and besides being his God Brother, performed, recorded and learned the art of Hip-Hop under him. For years ODB's right-hand man, Buddha Monk, and also feature on his dark knight album, as well as countless other of his Brooklyn Zucompadres tried to convince Menace to put out his own album or mixtape.In 2010 he finally, in cooperation with Chambermusik, released his debut mixtape "No Copycats Plea ...
Discography



O.B.E.Z. G.F.B
Onebody Enterprise LLC. R...
© 2017 Onebody Enterprise...

O.b.e.z. G.f.b
Onebody Enterprise Llc. R...
© 2017 Onebody Enterprise...

Upcoming Events
Wed, Apr 01, 2015 10:00 PM
Club Bugatti Grand
CherrieDale GreenVille, S.C.
IUnique Squad 864 Team O.B.E.Z. South Mixtape Release Party

Thu, Mar 26, 2015 9:00 PM
Club In Riley N.C.
N.C.
Menace O.B.E.Z. and Team O.B.E.Z. South in the building