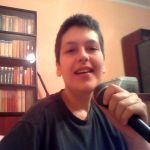 Artist Bio
She was interested in music when she was a kid. Playing all sorts of instruments and singing!
She sang songs and performed on television several times, when she was in primary school.
Spent her childhood and teenage days in Vojvodina, in the village, now town, called Sečanj.
Music is HER LIFE!!!

Absolute music hearing!

Finished Primary and Secondary Music School for theory -Music Theory Department school "Josif Marinković" in Zrenjanin and P ...
Discography