Ricardo
FEATURED TRACKS
Aurora de las Hamacas
A la Luz de la Luna
Cancion de amor en momento de gu...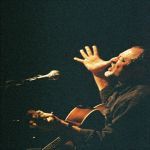 Artist Bio
RICARDO ANDINO

Born in 18/03/48 in El Salvador, Central America.
Studied Composition in El Salvador National Conservatorium.
During the 60s he started to compose simple ballads and during the 70s
started to compose Classical Works including 2 Symphonic Poems
and some Chamber Music.
His Symphonic Poem "CHASCA" was performed in 1984 in the
National Theatre of San Salvador with the National Phil ...