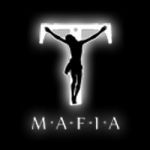 Artist Bio
RIUL DOAMNEI
Rising to Damnation…

Italian extreme metal quintet Riul Doamnei burst into life in 1999 with a relentless determination to carve out their unique path in the metal scene as if driven by the rapid waters of the river they're named after. Their moniker (which translates to "The Lady's River" in Vlad Ţepeş' language) evokes the suicide of the Impaler's wife in the face of imminent Ottoman captivity, and thus makes a statement against any form of sl ...
Upcoming Events
Sat, Jul 26, 2014 1:00 AM
CARPATHIAN ALLIANCE OPENAIR
Lviv region, Ukraine
WATAIN, BEHEMOTH, TAAKE, BELPHEGOR, BORKNAGAR, FINTROLL + Riul Doamnei

Sat, Jul 19, 2014 1:00 AM
TOTAL METAL FEST 2014
Bitonto, Bari (Italy)
KREATOR + ANNIHILATOR + BEHEMOTH + MOONSPELL + DEATH ANGEL + Riul Doamnei

Fri, Jul 04, 2014 6:00 PM
ERESIA Metal Fest
Località Zamlin, Résia, Friu
HOLLOW HAZE + Riul Doamnei + Inira + Caligo

Fri, Apr 11, 2014 10:00 PM
Movida
Lugo di Grezzana
RIUL DOAMNEI + LOSTAIR

Fri, Nov 29, 2013 3:00 PM
t.b.a.
Bucharest
NOVEMBER TO DISMEMBER metal fest w/ Hail of Bullets, Impaled Nazarene etc..

Sat, Sep 07, 2013 10:00 PM
Seven Sins Live Club
Seven Sins Live Club
w/ KROW (Brazil)

Fri, Sep 06, 2013 10:00 PM
Baricentro Live Club
Verona
w/ KROW (Brazil)