New York City,
New York United States
S4 cheat
6,839 Views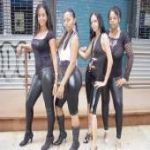 Artist Bio
S4 is a four girls musical group from NYC and their record label is EJS Records.
EJS Records was founded by Emma Sabessar in 2005 on the month of May. They featured S4 because the girls have so much talent.
S4 can write,arrange, produce and perform their own songs , One of the songs is about to be release nationwide called "Cheat"
They have favorite songs from other artists that they will like to perform as well.
S4 had performed at many diffrent venues such as T ...
Discography