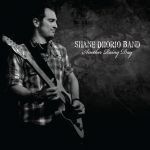 Artist Bio
Shane Diiorio is an original blues/roots artist based in Melbourne, Australia. Playing funky, soulful, original material, the Shane Diiorio Band is a mixture of some of the finest names and musicians in the Australian blues scene.

What people are saying:

3MDR FM – "Heck of an Album Dude! Stunning!" (Moving on Album Release)
Geoff Achison – "You play with a touch and feel that is very rare"
Brunswick Hotel – "One of our Top Bands"
...
Upcoming Events
Sat, Nov 12, 2011 5:00 PM
Elevation - Emerald
Big Gig Festival - Emerald
Festival including some of the finest acts! Our second year running

Sat, Nov 05, 2011 9:00 PM
Club Kilsyth
Kilsyth Club, Ringwood
Killer gig! www.shanesband.com

Sat, Oct 29, 2011 9:00 PM
Lounge Pit
388 Brunswick Street Fitzroy
4 Piece Gig - Come down and get a new CD! :)

Sat, Oct 08, 2011 9:00 PM
Lounge Pit
388 Brunswick Street Fitzroy
4 Piece Gig - Come down and get a new CD! :)