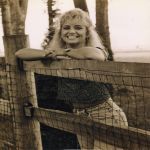 Artist Bio
Sherri Lynn Won The EIA Platinum Female Artist/Writer Award 2009 for "His Will Be Done", at the Entertainer Indi-Association Awards Show on June 27, 2009 in Nashville TN!

MY MISSION AND VISION FOR GOD:
My Mission, My family and I will pray for you if you send a prayer request we believe that prayer solves problems, Jesus is the Problem Solver. We have 6 kids, 3 girls and 3 boys. My family and I work together with the music that God Gave me to put out there for Him. I a ...
Discography