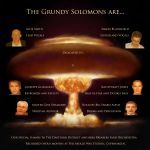 Artist Bio
The Grundy Solomons are back with their latest album "Please Restore To Factory Settings".
It is a melange of concupiscible tales that will keep you entranced from beginning to end: of love lost, desire, despair and above all hope.
Factory Setting as it is affectionately already being dubbed by their loyal and misguided fan spans a veritable cornucopia of emotions; from the excitement and despair of SS Rohilla to the dark possessive quality of Henry Tops. From the pathos of Song ...
Upcoming Events
Sat, Nov 15, 2014 7:30 PM
The Living Room, Stevenage
Call 01438 355649 for tickets
Charity Talent Show in aid of The Living Room