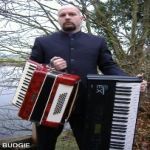 Artist Bio
Trev Budgie Walton is a suffolk based songwriter,with tv / and radio apperances . Trev was a member of the house band on britains got talent in 2007. radio apperances include radio 1 in the late seventies.
Trev or Budgie has he is known is a well established pro act playing top venues up and down the country.
Trev has three types of shows he can perform his first show has every era of music in please note no rave garage etc just music that people can dance the night away to. his se ...