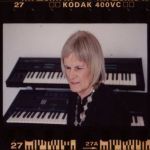 Artist Bio
Hi, I'm Christine, (known as Chrissie) Cochrane, a visually impaired singer, song
writer, and general all round musician specializing in keyboards and production.
I am also the Managing Director of an internet radio station called The Global Voice
which is mainly, though not totally staffed by visually impaired people which you
can find at theglobalvoice.info.
We also have another arm of the Global Voice called TGV Productions which helps mainly
visua ...
Discography