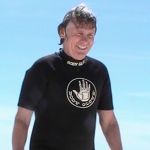 Artist Bio
Albums: They Slew The Dreamer, Martian Boogie, A Gary Revel Christmas, and Fire and the Holy Ghost and more on iTunes, Amazon, Emusic and more.

Bio at http://garyrevel.com/gary_bio.html

The story of the Gary Revel investigation of the assassination of Martin Luther King Jr. has been optioned by Motion Picture Producer-Director-Writer William Sachs. MLK - They Slew the Dreamer Movie Presentation http://www.garyrevel.com/mlk

The Gary Revel investigation ...