Hot Water Cornbread ...
FEATURED TRACKS
Baby Ya
Back With Another One
Like Wut (Chopped And Screwed)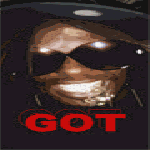 Artist Bio
Hot Water Cornbread Ent. is a Las Vegas based company. Founded By Chris "BoBo" James and Robert "Sherrod" Mitchell in 2008, they have hit the underground West Coast scene with force. With Bay area artist F.A.N. and his album Section 8 & Shoebox Money, HWC is setting the pace in Vegas for hit club bangers. Bigg C, a Vegas native, and the single Burn Rubber(tribute) from his debut solo album titled I Did M.E. is being heard from Oakland to Chicago and down in New Orleans. Be on the watch for f ...
Discography

Upcoming Events
Sat, Aug 29, 2009 11:00 AM
Summer Hoops B-ball Tournament
Sunset Park
Fundraising event for AHA and The Asia Marie Big Heart Foundation