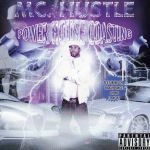 Artist Bio
THE MC Hustle story
Every Rapper seems 2 step on the seen with the same back ground an story growing up in the inner city experiencing a rough childhood being in trouble with the laws an rapping 2 make it out.
And Michigan native MC Hustle made the same positive change after racking up 2 gun case an a drug case but with countless amounts of money being spent on lawyers fees an court cost the rapper face a lesser charge due 2 the improper arrest and search.
But MC Hustle knew ...
Upcoming Events
Mon, Sep 05, 2011 1:00 AM
tweetmymixtape
http://tweetmymixtape.com/8w96
mc hustle road 2 success vol 2