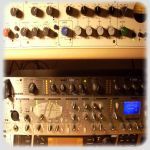 Artist Bio
NTFC Studio doesn't ask for exclusive, doesn't get your intellectual property, we just help you to grow up and sell your albums on-line.

NTFC Records offers following services:

- Web recording and cooperation among musicians;
- Web mastering;
- Web mixing;
- Video scores and soundtracks;
- Video post production

For interested musicians and engineers ... email us at info@ntfc.it or visit us at www.ntfc.it!!
Upcoming Events
Thu, May 28, 2009 9:30 PM
Caffè letterario
Roma
Tiriamola su!!

Fri, May 01, 2009 9:00 PM
To be defined
Tagliacozzo (AQ)
Per gli amici de L'Aquila

Fri, Nov 14, 2008 10:00 PM
NAK Pub Via Tiburtina Km99
Tagliacozzo (AQ)
Damiana F debut

Mon, Apr 21, 2008 10:00 PM
Flux 23
Rome
NTFC for Clouds tour