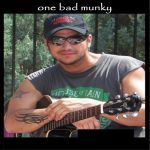 Artist Bio
My name is Joe Zamora and on stage I'm known as "One Bad Munky", if you come to my shows you'll understand why that is. My dad gave me that nickname as a kid and once he saw me perform my music he incited everyone to start calling me OBM.

My life's purpose is to make music and make a difference in people's and animal's lives by donating half of everything I make to charity. When you buy my singles that are listed as "Charity Tracks", you are donating half of y ...
Discography


Upcoming Events
Sun, Dec 01, 2013 12:00 PM
The internet.
The world.
"I'll be home" charity track released for SAFE DOG RESCUE CHARITY.