Rene Reyes & Poohmaf...
FEATURED TRACKS
Gravity's Eyes Of Infancy
Que Golpean
I'm Wondering (Breathe)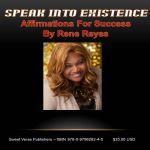 Artist Bio
Meet Grammy Award winning Ghost Writer Rene Reyes of Potugal. Born to a European mother and Mozambique/Puerto Rican father; migrating to the United States, adjusting to the new world and culture around her; and it wasnt easy. Rene and her family would find themselves facing adversity homelessness and tragedy. Her grandfather always stressed the importance of education, especially if one was to become a world traveler, because it increased the respect earned worldwide. "Control your accent and ...
Upcoming Events
Sat, Apr 27, 2013 9:00 AM
NESBE ANNUAL EXPO
ANAHEIM MARRIOTT
SMALL BUSINESS EXPO!

Fri, Apr 26, 2013 1:00 AM
VIP NESBE RECEPTION
ANAHEIM

Thu, Apr 25, 2013 1:00 AM
Presidents Dinner Reception
South Hampton

Wed, Apr 24, 2013 1:00 PM
PRIVATE AFFAIR
USA