Virginia Beach,
Virginia United States
tiandtee
6,401 Views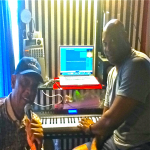 Artist Bio
This is the debut CD for the duo Ti-and-Tee. If you like a little humor sprinkled onto a funky blues beat then you are at the right place ! Ti and Tee are nicknames for Tony Ross Jr (Ti) and Tony Ross Sr (Tee). This father and son duet is headquartered out of Virginia Beach, Virginia. All of the music on this debut CD is orignal, written, published and performed by Ti and Tee.

Ti, a musician for many years (Keyboard, Guitar and Bass), usually creates the musical tracks and Tee w ...
Discography