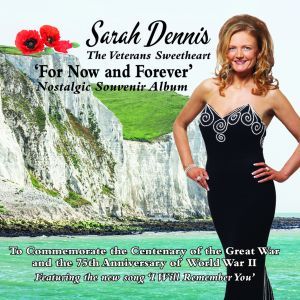 Artist Bio
The Veterans Sweetheart
Thank you for visiting my download page. Click on your preferred music download site, itunes, Amazon etc in the DISCOGRAPHY section and download the individual tracks or Full Album Now.
To Book Sarah for your special event call Shiny Music Management on + 44 7788 673 466 or email info@shinymusic.co.uk
"To be named as 'The Veterans Sweetheart' by the NS RAF Association and the Lancashire Veterans Association, in the (Click here to read on)Centena ...
Discography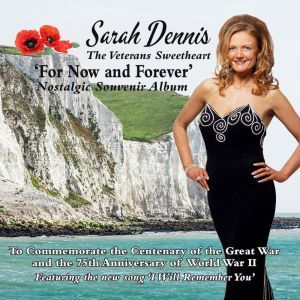 Upcoming Events
Fri, Nov 07, 2014 1:00 PM
Longfield Suite Prestwich
Manchester
Festival of Remembrance

Thu, Oct 30, 2014 7:00 PM
Radcliffe Civic Suite
Manchester
Festival of Remembrance

Sat, Sep 27, 2014 8:00 PM
TBA
Sherbourne Dorset
Reunion of HMS Eskimo

Fri, Sep 19, 2014 7:00 PM
Snack n Chat
Pemwortham
RBL Fundraising Event - Nostalgia Show

Sun, Aug 31, 2014 1:00 PM
Mesnes Park
Wigan
Festival of Sound WW1 Event

Sat, Aug 30, 2014 8:00 PM
Unity Club Standish
Near Wigan
Event for the RBL

Sun, Aug 24, 2014 3:00 PM
The Heywood
Heywood
LVA Event to Honour Anthony Parmer First VC Winner

Sat, Aug 16, 2014 7:00 PM
The Glendower Hotel
Lytham 1940's weekend
Wartime Weekend event

Fri, Aug 15, 2014 8:00 PM
The Chadwick Hotel
Lytham 1940's weekend
Wartime Weekend event

Wed, Aug 06, 2014 7:30 PM
Bury Parish Church
Bury Town Centre
Pack Up Your Troubles Concert with the Fusiliers Band

Fri, Jul 04, 2014 12:30 AM
Mid arena
Southport Seafront
World Record Attempt World's Largest Human Poppy Remembrance Event

Fri, Jun 27, 2014 8:00 PM
Norbreck Castle
Blackpool
Gala Dinner for the Veterans

Mon, Jun 23, 2014 8:00 AM
Empress Ballroom Winter Garden
Blackpool
Show to Open Veterans week

Wed, Jun 18, 2014 8:00 PM
Duple Club
Blackpool
Radio Interview Fylde FM