Yung Dominus
FEATURED TRACKS
Facts of Life (feat. C-Terror)
On Ice (feat. Germ Ghee & Snub) ...
Goin Up (feat. Austin White)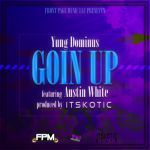 Artist Bio
YOUNG DOMINUS FOUNDER/CEO/ ARTIST OF FRONT PAGE MUSIC LLC WAS BORN MAY 4TH 1982 AT MT. ZION HOSPITAL IN SAN FRANCISCO CA AT 7:32 AM. I MOVED BACK AND FORTH FROM COMPTON, CALIFORNIA TO ATLANTA PERIODICALLY MY WHOLE LIFE. FAMILY AND FRIENDS ON BOTH COASTS. I WROTE MY FIRST SONG IN FOSTER CARE AT AGE 12.."KEEP IT GOING". I HAVE BEEN RHYMING SINCE 1997" WAITING FOR A BREAK EARNING MY STRIPES AND STREET CREDIBILITY IN CIPHERS/HUSTLING ON BOTH COASTS...RECORD 32-1..MY ONLY LOST WAS TO ROSCOE OF DP ...
Discography