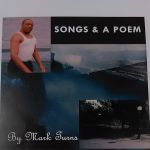 Artist Bio
Mark Turns is a spoken-word artist/poet & Lyricist from Columbus, Ohio who enjoys writing.The 3 featured tracks on this page:

1). I'm Not Gonna' Hurt You.

2). Open Your a Eyes. (1st Remix)

3). The Sweetest Loveletters -AND- We'll Drink Our Wine & Our Whiskey Together.

The following 2 singles are currently playing on SongCast radio and are also available off of the www.LiLGoat.com homepage under The MGT Quiet Storm and Current-Updates ...
Discography