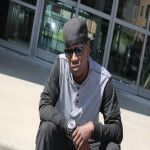 Artist Bio
Groove2FLY Bio

Prelude: Do you need something fresh, something different than what
you've been used to? I know you do. You see there are some great singers

on the radio, and there are some great song-makers, but there aren't many

great singing hit-makers. Just when you're tired of hearing the same old

sound here comes a hit-maker for you. The sound is fresh, deeply rooted

in soul, and a definite hip hop/r&b ...
Discography

Groove2fly
What Would You Do
© 2015 Groove2fly